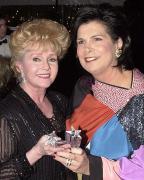 February 24, 2001

Debbie Receives Crystal Star

Debbie is being honored for helping to preserve film history through her large collection of Golden Era movie costumes. Debbie, whose collection includes thousands of costumes from "Hello, Dolly," "Gigi," "Planet of the Apes" and "Gentlemen Prefer Blondes," is receiving the Fashion Institute of Design and Merchandising's Crystal Star.

Actresses who wore some of the costumes included Janet Leigh, Marsha Hunt and Ann Miller.


Debbie starts production in Return to Halloweentown in February. A sequel to the 1998 movie, Halloweentown, Debbie portrays grandmother Aggie who whisks granddaughters Marnie and Sophie off to Halloweentown to investigate a series of strange occurences. When they arrive there, the once vibrant community has lost its magic. All of the citizens, including the gargoyles have gone gray and boring. Before long, Aggie discovers the theft of her spell book and the three of them begin a search for it. Dont miss this! It will premier in October of this year.