Debbie's new musuem is fastly becoming a reality. Here she is with Carrie and Todd at a groundbreaking ceremony in June, 2001. Congratulations Debbie!
UPDATE: This page will be updated soon. The museum is now going to be located in Belle Island Village, Tennessee.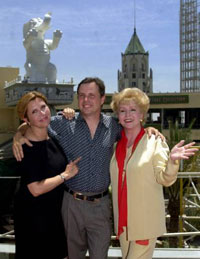 Debbie Reynolds Movie Collection Finds New Home in L.A.

By Edmund Newton

LOS ANGELES (Reuters) -- Actress Debbie Reynolds' huge collection of movie
memorabilia, which she has been amassing for 30 years, is on the verge of
finding a new home in Hollywood, associates said on Wednesday.

The collection, including Judy Garland's gingham dress and a pair of her ruby
slippers from ''The Wizard of Oz,'' and the billowing "subway-grate skirt''
which Marilyn Monroe wrestled with in ''The Seven Year Itch,'' has been without
a permanent museum space since Reynolds' hotel and casino venture in Las Vegas
went broke in 1997.

Reynolds' foundation is expected to complete a deal this week with TrizecHahn
Corp., giving Reynolds' collection the top floor of a $500-million
entertainment, dining and retail project now under construction on Hollywood
Boulevard. The development near Mann's Chinese Theater also includes the Kodak
Theater, the future home of the Academy of Motion Pictures' annual Oscar Awards
presentations.

Having a prime 20,000-square-foot Hollywood location for her collection is "a
dream come true,'' said Reynolds, 69.

"This is Hollywood's history,'' she said. "It's the only work I've known since
I was 16 years old. It's my family.''

Reynolds' collection, including 3,000 costumes from films made from the Silent
Era to the 1970s, as well as thousands of sets and pieces from those movies, is
worth millions of dollars, said Todd Fisher, 34, the general manager of the
foundation administering the collection. Fisher is Reynolds' son from her
marriage to singer Eddie Fisher.

The collection includes entire sets and costumes from such movies as "Planet of
the Apes'' (1968), "Gigi'' (1954), "Hello Dolly'' (1969), as well as films that
Reynolds herself starred in, including 1952's "Singin' in the Rain" and 1962's
"The Unsinkable Molly Brown.''

Fisher, in an interview, said his mother's collection should open at its new
home in Nov. 8 and will be known as the Hollywood Motion Picture Collection.
He said that only some minor issues remain to be worked out before the deal is
set. The TrizecHahn development is at the corner of Hollywood Boulevard and
Highland Boulevard, in the heart of Hollywood's preservation and redevopment
region.

"Think about it," said Jack Illes, a spokesman for TrizecHahn. "We've got
three beautiful old theaters around us -- the Egyptian, the El Capitan and the
Chinese Theater -- and we're across the street from the Hollywood Roosevelt
Hotel, where the very first Academy Awards were given out. This is really the
touchstone of the motion picture industry in America.''

When the collection is on view, Reynolds displays it as segments of a movie,
with the costumes shown on actual movie sets. "I didn't want to have just
mannequins standing there,'' Reynolds said. "That would be boring.'' The idea
was to re-create actual scenes from movies, complete with the original
furniture and costumes. The displays are often accompanied by video clips from
the original movies, with Reynolds' own voice-overs describing the items.

Fisher said his mother can, like other hobbyists, be obsessive about tracking
down items to complete a tableau.

"She just got a piece from the 1954 movie 'Desiree,''' Fisher said. "She had
some spectacular costumes that Marlon Brando wore, and also Jean Simmons and
Merle Oberon. But she always wanted the Michael Rennie costume.'' Rennie
played Napoleon's rival, General Jean-Baptiste Bernadotte. Reynolds tracked
the costume down to a private collector, who finally sold it through an auction
house that specializes in historical artifacts, Fisher said.

"It's no different from a collector of glasswork pieces or stamps,'' he said.
"My mother can be just as obsessed about getting the full set.''

Reynolds' hobby has added to her financial travails, though it's a burden she
has gladly borne, Fisher said. "My mother goes in and out of being flush,
depending on whether she's married or not,'' Fisher said. "If she hasn't been
married for a while, she's pretty flush. But even if she's broke, she still
has to ability to go out and earn $100,000 or $200,000 in a week.''

By now, the collection has gotten so large, Fisher said, that only a small
portion of it can be displayed at any given time. Even with the availability
of 20,000 square feet in the new complex, only about 20 percent of Reynolds'
memorabilia will be shown, he said, while the rest will be kept in storage.

While Reynolds has, until recently, gotten little support for her efforts from
the Hollywood studios, she has received some assistance from some unlikely
sources. Elizabeth Taylor recently donated a suit of armor worn by her late
ex-husband Richard Burton in "Cleopatra'' (1963).

Taylor, who once had a notorious relationship with Eddie Fisher when he was
married to Reynolds, and was blamed by many for the Reynolds-Fisher breakup,
has also agreed to make her participation on-going. "Liz has agreed to join
the board of the foundation,'' Todd Fisher said.

04-19-01 / Reuters


Contribute!